Archives for October 2015
Missouri S&T kicks off Sarchet seminar series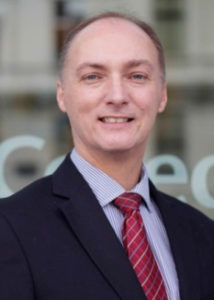 In advance of its 50th anniversary in fall 2016, the engineering management and systems engineering department at Missouri University of Science and Technology is launching the Bernie Sarchet Graduate Seminar Series.
The series is named after Dr. Bernie Sarchet, who joined Missouri S&T in the mid-1960s as the founding chair of the engineering management department.
"Dr. Sarchet is considered by many to be the founder of engineering management as a discipline worldwide," says Dr. Suzie Long, associate professor and interim chair of engineering management and systems engineering at Missouri S&T.
The first speaker, Dr. Simon Philbin of Imperial College London, United Kingdom, will speak at 3 p.m. Monday, Oct. 5 in Room 213, Butler-Carlton Hall. Also available via WebEx, the presentation "Insights from managing complex research, technology and engineering projects in academia," is open to all students and faculty.
"Dr. Philbin is a wonderful inaugural speaker for the Sarchet Seminar Series," says Long. "He is an engaging speaker and truly embodies the ideals of the engineering management profession as envisioned by Dr. Sarchet. He will set an amazing tone for the seminar series and the anniversary celebration."
Philbin's seminar will highlight practical applications of project and engineering management by drawing on his experience, which has been gained in a university environment and through extensive engagement with industrial companies.
Philbin is director of programme management at Imperial College London, where he leads the programme management office (PMO). The PMO is focused on supporting research programs and projects across the university. This includes international research programs, European Union collaborative research projects and commercial projects.
He is published widely across areas including university-industry research collaboration, project management, technology management and chemistry. He is a recipient of the Merritt Williamson Best Paper Award from the American Society for Engineering Management and the Rod Rose Best Paper Award and Best Annual Symposium Paper Award from the Society of Research Administrators International.
Sarchet, who retired in 1981, secured approval for a Ph.D. program in engineering management at Missouri S&T. He also was a founding member and first national president of the American Society for Engineering Management. After retirement, he helped raise funds for the Engineering Management Building, helped develop the Order of the Golden Shillelagh and spearheaded the development of the Video Communications Center at Missouri S&T, which led to membership in the National Technological University, a consortium of universities that provide distance learning via satellite.
58

th ANNUAL


ASPHALT CONFERENCE


Monday, November 9 through
Tuesday, November 10, 2015
Havener Center, Campus of Missouri S&T
---
---
Who Should Attend?
For those involved in –
Pavement Construction
Maintenance and Rehabilitation
Materials
Design & Specification
Seventh annual O'Keefe Lecture is Oct. 22
James L. Spehr will present "An Unexpected Career" as the seventh annual O'Keefe Lecture at 3:30 p.m. Thursday, Oct. 22, in Room 204 McNutt Hall. Spehr, who earned bachelor of science and master of science degrees in metallurgical engineering from Missouri S&T in 1964 and 1969, respectively, spent his entire professional career at McDonnell Douglas Corp., eventually rising to vice president of major aerospace programs.
MacArthur Fellow to discuss fire's impact on climate
Dr. Tami C. Bond, professor of civil and environmental engineering at the University of Illinois-Urbana Champaign, will present a seminar titled "Energy in the Anthropocene Era: a tale of fire, smoke, time and power," at 3:30 p.m. Friday, Oct. 9, in Room 103 Engineering Management. Bond will discuss a framework to illustrate how changes in individual sources affect climate in the near term and long term. Within this framework, she will show how mitigation efforts from sources such as diesel freight delivery, brick kilns, cooking stoves and kerosene lamps affect climate.
The seminar is hosted by the Environmental Research Center (ERC). Bond is a MacArthur Foundation Fellowand an environmental engineer working at the interface of engineering and public policy to unravel the global effects of black carbon emissions on climate and human health and to comprehensively understand how energy interfaces with the atmosphere. Black carbon, or soot, is created essentially any time something is burned—from diesel engines and agricultural burning to home heating and cooking—and varies considerably by source; yet traditionally, large-scale global climate models have worked with rough estimations and little fidelity at the source level. The challenges to including black carbon as a factor in climate models are significant: the ubiquitous and diverse array of sources, complex atmospheric processes, and a lack of standardized global inventories made accurate assessments extremely difficult, and representation of the impact of black carbon was crude.
SPAR lectures Oct. 13
Dr. Massimmo Ruzzene, professor of aerospace and mechanical engineering at Georgia Institute of Technology, will present two lectures as part of the "Distinguished Lecture Series" organized by the System and Process Assessment Research (SPAR) Laboratory in the civil, architectural and environmental engineering department at Missouri S&T. The lectures are free and open to the campus community.
The technical lecture, titled "Guided Acoustic Wavefield Imaging for Damage Detection, Structural Characterization and Transducer Design," will be held 9:45-10:30 a.m. Tuesday, Oct. 13, in Room 107 Fulton Hall. This presentation will provide an overview of techniques developed for the analysis of guided wavefields and their application for damage detection, structural characterization, and for the design of novel transducers for structural health monitoring.
A second NSF lecture will be held 3:15-4 p.m. Tuesday, Oct. 13, in Room 315 Butler-Carlton Civil Engineering Hall. This lecture is titled "Dynamics, Control and Systems Diagnostics Program Overview," and will provide a quick overview of the Dynamics, Control and Systems Diagnostics Program, its goals, its funding levels and its priorities. In addition, the presentation will provide advice and general suggestions regarding proposal writing and submission, and general interactions between NSF and the scientific community.
Date: Thursday, October 22, 2015
Time: 11 am – 12 pm CDT
Presented by Charles Hanskat, P.E.
Executive Director
American Shotcrete Association
Description:
This seminar presented by the American Shotcrete Association (ASA) will give the owner,
design engineer, project specifier, field inspector, and general contractors an overview
on how shotcrete can be efficiently, and cost effectively used for structural repair and
rehabilitation of concrete bridges and associated structures. We will provide a basic
overview of the shotcrete process, cover the design, specifying and detailing
considerations for shotcrete repairs. Next, we will use specific project case studies
from a variety of projects across the USA to illustrate field considerations and the
sustainability benefits gained when using shotcrete for repair including reduced
formwork needs and scheduling advantages. We will also discuss achieving quality
of shotcrete addressing field inspection, specific placement techniques, nozzleman
certifications, and contractor qualifications. We will wrap up with a discussion of
new ASA programs for shotcrete inspector training, and contractor qualification
as well as providing a listing of appropriate references and resources on use
of shotcrete for structural concrete repair.
Bio:
Charles Hanskat, P.E. is Executive Director and Technical Director for the American
Shotcrete Association. He is a licensed professional engineer in twenty-three states.
Hanskat has been involved in the design, construction, evaluation and repair of0
environmental concrete, marine, building and shotcrete structures for over 35 years.
He is an active voting or consulting member of many ACI technical and Board
committees including the ACI 301, ACI 318-A, ACI 350 and ACI 506. He is a Board
member of ACI's Strategic Development Council and chairs the SDC TTAG Committee.
He was also 2014 President of the American Shotcrete Association.
Hanskat has been active in professional and technical engineering societies.
He served as president of Florida Engineering Society and a national director of NSPE.
He is a fellow member of ACI, ASCE and FES, and an active member of
ACI, ASA, ASCC, ASTM, and SDC.
He holds a Bachelor's and Master's degree in Civil Engineering from the University of Florida.
The AF SFFP offers hands-on exposure to Air Force research challenges through 8- to 12-week research residencies at participating Air Force Research Facilities for full-time science and engineering faculty at U.S.colleges and universities. This program is sponsored by the Air Force Office of Scientific Research (AFOSR) and is administered by ASEE, which provides the oversight and administrative structure for the selection and appointment of applicants. The objectives of the AF SFFP are as follows:
1. To stimulate professional relationships among AF SFFP participants and the scientists and engineers at Air Force research facilities
2. To enhance the research interests and capabilities of faculty (both new and experienced researchers) in the U.S. academic community
3. To elevate the awareness in the U.S. academic community of Air Force research interests
4. To provide the AF SFFP participant opportunities to perform high-quality and meaningful research at Air Force Research Laboratory (AFRL) Directorates, the United States Air Force Academy, or the Air Force Institute of Technology
5. To provide nationally accredited mentoring of academic researchers at technical directorates of the AFRL, the United States Air Force Academy, and the Air Force Institute of Technology
The objective of the Dynamic Materials and Interactions portfolio is to develop fundamental scientific knowledge of the dynamic chemistry and physics of complex materials, particularly energetic materials. The portfoliofocuses on energetic materials science and shock physics of heterogeneousmaterials. Research supported by this portfolio seeks to discover, characterize, and leverage (1) fundamental chemistry, physics, and materials science associated with energetic materials; and (2) fundamental shock physics andmaterials science associated with complex, heterogeneous materials. The research will be accomplished through a balanced mixture of experimental, numerical, and theoretical efforts. This is required for revolutionary advancements in future Air Force weapons and propulsion capabilities including increased energy density and survivability in harsh environments. 

Basic Research Objectives:
Research proposals are sought in all aspects of the chemistry and physics of energetic materials with particular emphasis placed on chemistry-microstructure relationships and the exploitation of fundamental shock physics in heterogeneous materials. Efforts that leverage recent breakthroughs in other scientific disciplines to foster rapid research advancements are also encouraged. Topics of interest include, but are not limited to, the following:
– Mesoscale experiments, and associated models, to understand initiation in energetic materials;
– Predictive processing-structure-property relationships in energetic materials, including reactive materials by design;
– Detonation physics, particularly the steady state reacting front propagating in energetic materials;
– High strain rate and shock response of polymers, composites, and geologicmaterials;
– Shock loading and mechanical response of energetic crystals;
– High energy density materials that overcome the CHNO limitations, including scale-up techniques required for gram-scale characterization of materials;
– Bridging length scales in energetic and other heterogeneous materials.
Energetic materials research is critical to the development of next-generation Air Force weapon capabilities. The energy content and sensitivity of these systems are influenced by the energetic materials utilized. Research areas of interest emphasize the characterization, prediction, and control of critical phenomena which will provide the scientific foundation for game-changing advancements in munitions development and propulsion.