Focused on students before the technology the Graduate Center for Materials Research (MRC) is a multi-disciplinary research and development organization. Established in 1964 at the Missouri University of Science and Technology, MRC provides a graduate education environment that fosters significant advances in the fields of materials science and engineering. MRC provides research facilities, an equipment base and a support infrastructure that enables faculty members, students and industry professionals to conduct successful, team-oriented research and development projects.
The Center provides graduate students in many academic departments (e.g. Materials Science and Engineering, Chemical & Biological Engineering, Mechanical and Aerospace Engineering, Chemistry, Biological Sciences and Physics) with advanced training in materials related engineering and science research.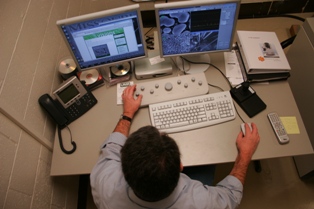 The research conducted in the Center ranges from fundamental science to applied engineering and includes the development, evaluation, application, and understanding of metals, polymers, biomaterials, electronic materials and composites. Accomplishments from the Center include:  glass microspheres for treatment of liver cancer, transparent composites for windows/armor, environmentally friendly corrosion coatings, laser glasses, epitaxial chiral surfaces, biomineralization, fuel cell electrolytes and sealing materials, electrochemical biosensors, multi-layer nanocapacitors, enhanced magnetic materials, and thin film electromagnetic probes.